Today is my son's 30th birthday.  This is the birthday card for him.  I'm having a surprise party for him next Saturday (shhh!), but of course we're celebrating today, too.
The Taco Fiesta stamp set was used for this card idea because the party theme next week is "Tacos & Margaritas."  Of course he doesn't know it, but he does love Mexican food so it fits either way.
I stamped a bunch of images from the set and then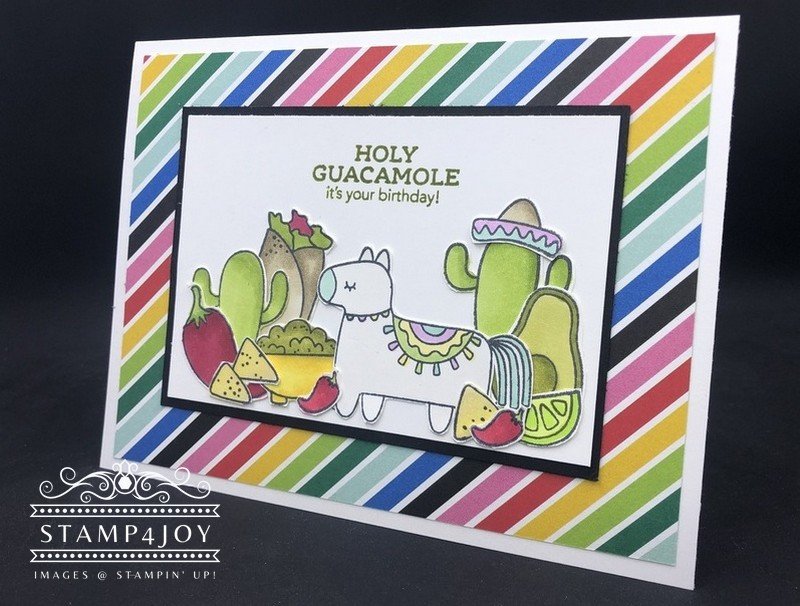 cut them out using my Paper Snips.  These scissors make cutting out detailed images so easy to do. 
After I colored them in with my Alcohol Markers and cut them out, I layered them over a piece of white cardstock.  This helps to hide the white edges of the cut-out images.  Then I stacked them in various positions and glued them down over each other.  I layered it onto some black cardstock to break up the white over the striped paper. 
For some reason this handmade card reminds me of the photo booth we'll have next week at the party!  LOL!  
I got the colorful background paper from Celebrate Everything, a now retired set of designer paper.  
I'm really looking forward to the party next week… he's going to be so surprised!  I'll have another birthday card for him then, too.
My dad's birthday was about a week ago, and here's the funny homemade birthday card I sent him using the same stamp set.