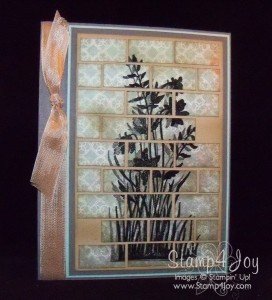 There's only a couple more days to sign up for next quarter's Card Making Techniques Boutique at the special early bird price… on Monday the prices go up.
Here's one of our projects for April.  It features one of the gorgeous patterns from the This and That Epic Day Designer Paper collection.  This new set of patterned paper will be coming out in the 2013-2014 Stampin' Up! catalog, but you can pick it up early now!
Here's a cool card making tip:
When using layers on your cards, you can conserve your card stock by cutting out the center of middle layers because they won't be seen.  I don't do this for every layer because your card will start to feel funny in the middle if you do.  On this card I cut out the center of the Pool Party layer, leaving about 1/2″ all around the edge to make a frame.  You want the edges to be wide enough so you'll have enough room to apply SNAIL or other adhesive.  And now I have another good-size piece of Pool Party card stock to use for other craft  projects!