NOTE:  Today's the last day!  Enter my Blog Contest and win a free stamp set!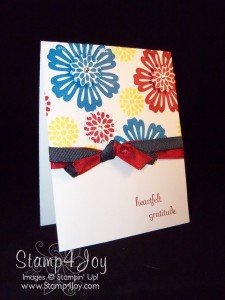 The only things I have specific to the 4th of July are some digital stamps, so I looked through the sets I have available for something that might give me the "feel" of the holiday to make 4th of July cards.  Of course, using the colors of red, white, and blue is a good start.  I chose the stamp set Mixed Bunch because the petals on some of the stamps reminded me of an awesome fireworks display.
This hand stamped card came together quickly.  I layered the ribbons and just tied them together into a knot.  The most time consuming thing was cutting out the small pieces that are popped up, but using Stampin' Up!'s Paper Snips that didn't even take long.
Supplies:
What do you think?  You can leave a comment using the link below.